In February 2011, Nyrstar launched Nyrstar2020, a strategic initiative aimed at positioning the company for a long term sustainable future as the leading integrated mining and metals business.

"Position" the Annual Report as an integrated, long-term project within Nyrstar's strategic initiative.
1. Set the direction for best practice in Annual Reporting.


2. Strive for excellence in communications.

We wanted to answer 3 questions :
1. What does our audience really want from our online report? Easy accessibility, user friendliness, clarity, simplicity … and content that meets all stakeholders' needs.


2. How do we meet these different needs effectively? Multi-channe and multi-initiative mix, meaning print, online and mobile reports.


3. Does this approach impact the reporting process? Strong consistent content. Effective disclosure and reporting. Several targets. Consistent messaging.

1. Online
(
http://nyrstar.annual-report.be/2011/
)
Online reporting plays a prominent role in Nyrstar's innovative and creative thinking. Focus lies on overall user friendliness and interactivity.
Structure change: from linear to interactive
Content change: people don't read online, but skim and scan pages. Therefore, clear overview pages, shorter paragraphs, relevant titles, highlighted keywords, inline links, action words and appealing infographics are key.
Enhanced usability: help stakeholders find information quickly through targeted signposting,
effective search functions, easy Excel downloads.
Search Engine Optimization: publishing the Nyrstar report in SEO HTML gives it optimal visibility in search engines: +60% free and highly targeted traffic from search engines.
Technology highlights: HTML5/CSS3, Device type: touchscreen (smartphone and tablet) vs mouse interactions. Device orientation: landscape vs portrait. Full screen size.
2. On Ipad
(
http://itunes.apple.com/be/app/nyrstar-annual-report-2011/id511248081?mt=8
)
Native iPad app is created based on the complete HTML version of report, offering intuitive menu guidance and powerful search function, videos, links to further information, layer glossary and iPad-specific finger movements.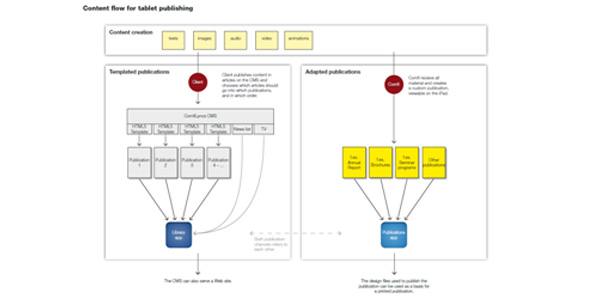 NYRSTAR's multi-channel, multi-initiative, campaign was a success:
The 'campaign' reached over
4.571 online visitors
, of which 4.063 unique visitors - in Belgium, the Netherlands, France, UK and Germany;
13.303 page views
, on average 2,91 pages visited, during 1,41 minutes,
88.91% new visitors
.
Update Google Analytics till end June 2012